Scientists are concerned that the UK prime minister is "skeptical" about rejoining the EU's €95.5bn science plan despite positive results from talks on Northern Ireland.
Professor Sir Adrian Smith, president of the Royal Society, said: "The silence does worry and worry people."
After last week's press conference sign windsor framecommittee chair Ursula von der Leyen said she looked forward to working together again between British and EU researchers.
"The moment it is implemented, I am delighted to begin work immediately on the Association Protocol, a prerequisite for joining Horizon Europe, which is great news for all those working in research and science," she said .
British scientists were delighted.
The UK benefits most from grants issued under the Horizon scheme, which provides not only funding but also leadership of pan-European research groups and access to equipment and facilities.
In the two years since the UK was kicked out of Horizon, the UK government has stepped in to make up for lost EU funding.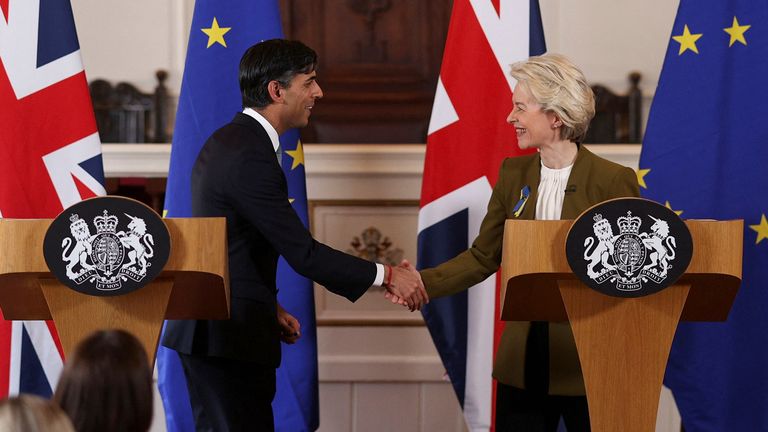 But one in six funders decided to leave the UK To keep their funding – often with team or research colleagues.
Funders who decide to stay in the UK lose out on the leadership that their grants bring them, and often fail to attract the best minds to work in their labs.
"The loss is not just about money," Professor Smith added.
"It's partnerships. It's framing. It's shared use of equipment. It's mobility of bright young people. All of that is put on hold."
read more:
What role will EU rules play in Northern Ireland?
UK risks 'brain drain' as scientists leave UK
British scientists are eager to see new partnerships with other countries such as the US and Japan – something the government says it is working on – but say turning their backs on Europe will negate any gains.
"Wouldn't it be best to build on the close collaborations that have developed over the years and open the door to formal links with other countries?" asked Dr Theresa Thurston, who studies infectious diseases at Imperial College London.
"I don't understand why you want one and not the other."
Many in the R&D industry believe the loss of scientific links to Europe undermines the government's stated aim of becoming a "scientific superpower" at the heart of economic recovery.
The CBI called the link with the EU's Horizon program a "win-win".
Click to subscribe to the Beth Rigby interview… wherever you get the podcast
Sky News understands the government will remain vague on what it plans to do until final negotiations with the EU on the Windsor framework are completed.
But after more than two years of uncertainty, British scientists are growing impatient.
"The Minister of Science and the new Secretary of State [for Science Innovation and Technology] It has been made very, very clear that associations are the target," Professor Smith said.
"We now need the Prime Minister to make that clear."