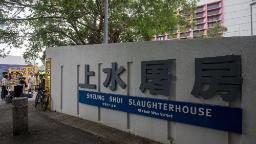 CNN
—

A butcher died Friday while trying to slaughter a pig in Hong Kong, Hong Kong police said.
The 61-year-old butcher, working at the Sheung Shui slaughterhouse on the city's northern outskirts near the border with mainland China, was knocked to the ground by struggling pigs and injured his meat cleaver by a 40-centimeter (15-inch) thick piece of meat, police said. told CNN.
The butcher was about to kill the pig — which he had already tased — when it regained consciousness and knocked him down, police said.
Police said a colleague found the man unconscious with a meat cleaver in his hand and a wound on his left foot. He was taken to hospital and was later certified dead.
Police said the cause of death had not yet been determined.
The city's labor department said it had launched an investigation.
"The Labor Department is saddened by the loss of this individual and expresses its deepest condolences to his family," the Labor Department said in a statement.
"We will complete the investigation as soon as possible to find out the cause of the accident, determine the responsibility of those responsible, and propose improvement measures. If there is any violation of safety production regulations, we will take action in accordance with the law," said a spokesman for the department.
The city's food and environmental health department, which manages the livestock slaughterhouse, offered its condolences to the man's family in a statement.