"Space is tough" – a mantra oft-repeated by the heads of Virgin Orbit and the Cornwall spaceport in the final months leading up to the mission – proved it last night.
The excited party atmosphere in the crowd quickly fell silent when a Virgin Orbit USA presenter announced on a big screen at the airport that something was wrong.
But despite the "abnormality" of the last moment, Thousands of people are still proud as they slowly leave the airport with their deck chairs in their arms.
"Good luck, Cosmic Girls!

"It was a bit of a disappointment, but it was a good night," one woman told me.
"This is the first time in Cornwall that we've actually worked at an airport, so it's fantastic for us to see our little airport on display to the world.
"It's a big deal for Cornwall, it's a big deal for the airport, we're a very small airport so it's absolutely fantastic to put us on the world map.
"It was a good night – put your hands together and take two!"
Her daughter said: "It's great to see so many people taking part. It's great to see it take off, so it's all good. I don't think we should be too disappointed. It's great to support Cornwall."
Some 2,000 people were lucky enough to get tickets to watch the launch – a festive atmosphere created by the party in the cold weather.
"Can't miss it, can't you?" Ben told me along with his four sons. "Very proud – it's fantastic."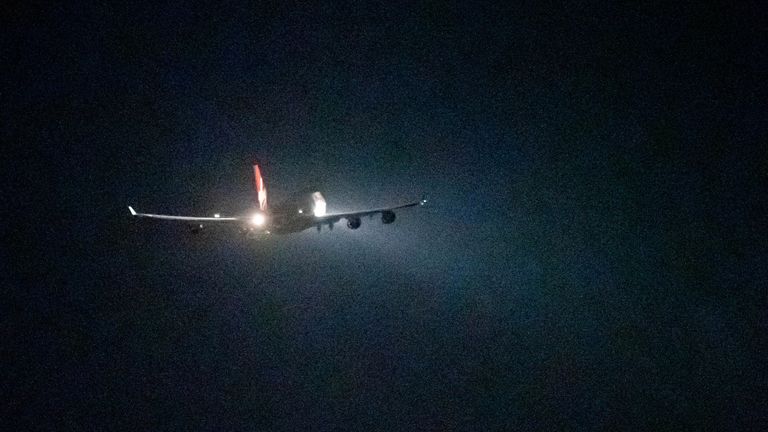 There is no doubt that Cornwall's participation in the UK's first orbital space launch has inspired the next generation.
Ben's son Gulliver wanted to come after he met British astronaut Tim Peake recently during a space race.
He said: "I saw him at the Science Museum in London! It was amazing – there's not a lot going on in Cornwall so it's a surprise to have something this big!"
As Gulliver packed his camp chair, Tim Peake tweeted: "So disappointing, but going into space is hard and we will learn valuable lessons."
Disappointment yes, but those following the Cornwall space trip have no intention of giving up.