There are tons of great products coming out every week – and as always, we're here to keep you updated on the best of them all. Every week, we put together a short list of our favorite products from the past 7 days for you to shop for your morning coffee or a quick break (trust, it's the only list you'll ever need to stay with the latest of these things).
Immerse yourself in festive, cozy vibes this week with Hill House Home's holiday collection, Stanley's new homemade coffee mug and Glossier's new seasonal lip balm.
Shop our favorite new releases below, but hurry up—they easily sell out.
Tartan nightdresses, soft down jackets and more

Hill House Home's holiday collection is here, and it goes beyond your usual ruffled nightdress with a puff-sleeve brocade miniskirt, a button-down Evelyn dress with a cropped hem and a wide collar, a crew neck tie, and a sequined Cordelia dress – sparkly Ellie's nightdress, ready for the party.
Glossier's drops tend to sell out quickly, so we don't recommend waiting for its latest version, which is perfect for when temperatures start to drop. The best-selling Balm Dotcom is now available seasonally: Miss Switzerland Balm Dotcom is themed around a cozy snowy day, a rich cup of hot chocolate with vanilla and marshmallow flavors.
Top insulated beverage maker Stanley has just launched a line of morning coffee cups: Demitasse Cup, Cappuccino Cup and Latte Cup All are made using Stanley's famous vacuum insulation technology, but stay at home. Grab a saucer with your coffee mug (or not) — these plates have silicone bases that won't tinkle on your desk. Everything is dishwasher safe, making messy mornings more manageable.
Contrary to popular belief, MSG is not only completely edible, but it also makes everything tastier. You can now add it to your table (if you're not already using it to make your meals delicious) as part of Omsom's triple shaker. With salt and pepper added, the MSG is packaged in a poppy-colored, bright shaker designed to harmonize with the other two packages.
Brightland Mini Artist Collection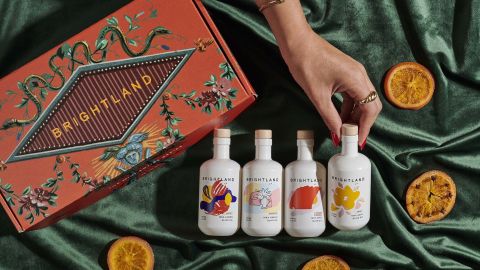 A premium EVOO is a kitchen must-have – the fancier versions are a great gift option. Brightland just dropped four packs of its best-selling California olive oil in smaller bottles, perfect for tastings and other sensible uses. For $85, the set includes Ardor (red peppers), Rosette (garlic), Lucid (lemon) and Arise (basil) – you can decide to split the group of four (bottles make great stocking stuffers) or give it all at once . If you're really focused on your oils, the 100ml size will also make you scream with the TSA's restrictions on liquids you can carry with you.
Caraway's Food Storage Kits are officially launched, these ceramic-coated non-toxic glass containers are eye-catching on refrigerator shelves and easy to clean up after you've eaten your leftovers. The $245 set of 14 comes in five sizes and six colors, so you can organize however you want (and there's a magnetic storage organizer to keep your cabinets tidy). Another smart option is to make part of the set into a bento-style lunch box, making it super easy to get your food to work and back.
4 Handy Blades From the Archives (Now)

Made In's cookware and cookware are exceptional value for money, and the brand is returning to its archives to re-release four of the brand's limited-edition knives. They're the best of Made In's previous 14 limited-edition knife drops, and the four that are back on the virtual shelf all serve different purposes in the kitchen. The first is a 6-inch chef's knife with a black Micarta handle, a little smaller than the standard version. There's also a boning knife with a green Micarta handle, which initially sold out within hours last year, a cleaver with an ebony handle that fits in the mixed space between the vegetable and meat blades, and the Made In First The return of this limited edition knife with a gorgeous blue carapace handle.
Bright colors and patterns with a nostalgic, whimsical vibe

Inspired by the bright hues and colorblocking of the '90s, Away's just-launched '90s on-trend collection includes fresh renditions of the brand's most popular bags and travel accessories. Look forward to accessories like pink and red two-tone carry-on and checked bags, bright marble swirls on messenger bags and packing cubes, and luggage charms to differentiate your bag from the rest.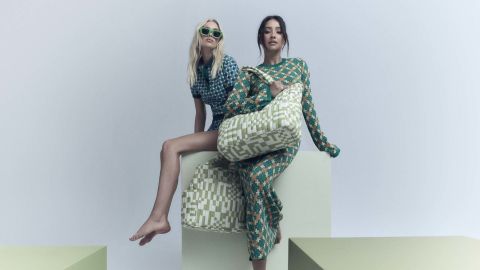 Shay Mitchell's Beis travel and lifestyle line has teamed up with Elsa Hosk to create a line of bags for parents on the go. Everyone has their own style: the collection includes totes, backpack totes, interchangeable clutches, caddies, baby carriers and more. Expect really cool patterns like lime, yellow florals and more to take bags from infancy to childhood and beyond.
Balmuda's elegantly designed appliances and electronics have filled our kitchens before, but the brand just launched a $399 speaker that takes the line's aesthetic and adds some concert-quality sound. The idea came from the founder's past in Japanese rock bands and his quest to record music to achieve the aesthetics of live music, and these speakers are designed for that. Expect acoustics and great balance made for vocal-centric music, keeping every tone in harmony. It's also rechargeable and portable, so you can take it with you wherever you go.
New iPad, Apple TV and iPad accessories

apple
Apple just released the latest update to its iPad, Apple TV, and more, and it's available for pre-order now. From the 10th gen iPad, 11-inch iPad Pro and 12.9-inch iPad Pro (all with the super-powerful M2 chip), Apple TV 4K, Siri Remote for Apple TV, Apple Pencil with USB-C (1st gen) and iPad accessories. Basically, if you've been wanting to upgrade your old desk or streaming gear, now is a great time to do so. Shipping later this month, it's the perfect time to get ready for Netflix's cozy winter and cold.