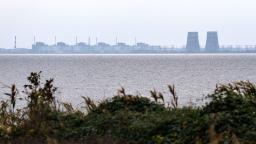 Commenting on an incident in eastern Luhansk on Sunday, Dmytro Lubinets, Ukraine's parliamentary human rights commissioner, said Russian soldiers "are the ones who are fighting and betraying" and that "fighting back is not a war crime".
Russia accused Ukraine of war crimes after a video emerged on social media that Moscow said showed Russian soldiers killed after surrendering to Ukrainian troops.
The exact details of what happened remain unclear.
"From some of the videos of the events that took place in the Lugansk region with the Russian military, it can be concluded that the Russians used the staged surrender to commit a war crime — they opened fire on troops of the Ukrainian Armed Forces," Lubinets said. A Telegram post on Sunday suggested that the Russians in the video may have acted as if they would surrender, but they did not.
"In this case, those in the Russian military cannot be considered prisoners of war, but those who are fighting and betraying," he said. "Retaliation is not a war crime. Rather, those who want to take advantage of the protections of international law to kill must be punished."
What the video shows: The edited video purports to show captured Russian soldiers surrendering, with several men lying on the ground with their heads in their hands. More and more soldiers were seen emerging one by one from a building and laying down next to them in the courtyard.
A voice, apparently directing the surrender, can be heard shouting: "Come out, one by one. Which of you are officials? Are you all out? Come out!"
After about 10 men fell to the ground, another soldier emerged from the same building and appeared to open fire in the direction in which the Ukrainian soldiers had surrendered.
A brief gunshot is heard before the video clip ends abruptly.
A second clip later taken from a drone above the same location showed what appeared to be the same group of Russian soldiers' bodies in the yard, most of them just meters from where they lay in the first clip.
CNN was unable to verify what exactly happened in the first video clip, nor is it clear what happened between the first clip and the time the drone footage was captured.
UN investigation: "We are aware of the videos and we are investigating them. Allegations of summary executions of people hors de combat should be dealt with promptly and A full and effective investigation will be conducted, and any perpetrators will be held accountable."
More background: A UN panel said in September that its investigation had found evidence that Russia had committed war crimes during the war in Ukraine, including cases of rape and child abuse.