Whether you're already a fan of the Apple Mac Mini or want to learn more about tiny desktops that connect to a keyboard, monitor and mouse, you'll want to check out Apple's new models featuring the company's latest M2 chip.
The 2023 Mac Mini, released today with the M2 and M2 Pro, offers more connectivity and higher-performance workflows at a lower price than its 2020 counterparts. Here's everything you need to know before placing your order.
2023 Mac Mini prices and where to pre-order

The new Mac Mini desktop with the M2 promises up to 50 percent faster performance and improved connectivity. It's worth looking at if you want a small but powerful computer.
The 2023 Mac Mini with the M2 and M2 Pro is available for preorder now and will be available on January 17. 24. The Mac Mini starts at $599 with the M2 ($100 less than its predecessor) and $1,299 with the M2 Pro.
Not only do you get an updated chip that's more powerful, but you also get advanced connectivity with support for up to three displays. As an added bonus, the Mac Mini M2 Pro supports an 8K display, a first for any Mac.
More performance and speed in a compact Mac Mini body

apple
The Mac Mini has always been a great way to bring Apple's massive computing power to your desktop at a lower cost. The 2023 Mac Mini lineup includes the latest M2 and M2 Pro chips, and you can now take advantage of faster next-generation CPUs and GPUs, increased memory bandwidth, and improved performance.
The Mac Mini with the M2 chip features an 8-core CPU and 10-core GPU, as well as up to 24GB of memory and 100GB/s of bandwidth. This makes tasks like editing images in Photoshop and editing video in Final Cut 50 percent faster, which is a considerable upgrade over the M1-equipped Mac Mini.
The Mac Mini M2 Pro goes one step further, offering twice the power of the Mac Mini M2. This includes its 12-core CPU, and up to 19-core GPU. In addition, the M2 Pro has a memory bandwidth of 200GB/s and supports up to 32GB of memory. So not only does it make video playback faster than the M2, it also allows musicians to make music with more plug-ins and effects, and photographers to quickly edit the largest photos.
It's good to know that even in this smallest form factor, the 2023 Mac Mini M2 and M2 Pro have more ports than the 2020 Mac Mini M1. The M2 offers two Thunderbolt 4 ports, supporting up to two displays, while the M2 Pro model has four Thunderbolt 4 ports, supporting up to three displays.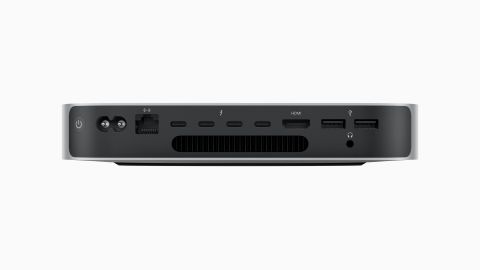 apple
And, for any Mac, the M2 Pro models can also support an 8K display, a first for any Mac. Both models have more traditional connectivity, with two USB-A ports, an HDMI port, a Gigabit Ethernet port with a 10GB option, and a headphone jack. Both the M2 and M2 Pro Mac Mini support Wi-Fi 6E and Bluetooth 5.3.
apple
We've always appreciated the Mac Mini because it takes up less space and it gives you the flexibility to create your own desktop setup. Now, for an even lower price of $599, you've got room for Apple's best-in-class 27-inch Studio Display, as well as accessories like the Magic Keyboard and Magic Mouse.
The 2023 Mac Mini M2 and M2 Pro versions not only deliver a more powerful experience and double the speed for faster workflow and media manipulation, but both come with more connectivity, including additional Thunderbolt 4 ports and the first It's also the only one with support for 8K displays on any Mac. They look like an especially good upgrade for anyone with an older Intel Mac Mini, but even those coming from M1-powered models should see some major improvements. While the $1,299 M2 Pro model isn't cheap, it looks like a good middle ground for those who want a compact, powerful desktop without splurging on the pricier Mac Studio zone.
We'll be testing the newest Mac Mini soon, but considering you'll be doing more with less, we'll consider focusing on this space.