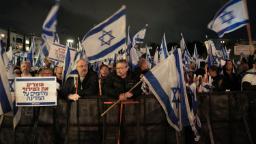 CNN
—

Thousands of people protested in Tel Aviv on Saturday night over proposed changes to Israel's judicial system by Prime Minister Benjamin Netanyahu and his government.
Police estimated that more than 80,000 people flooded HaBima Square and surrounding streets in central Tel Aviv despite torrential rain in the city, while others took to the streets of Jerusalem in parallel protests, Israeli media reported.
Participants carried signs comparing Netanyahu to Russian President Vladimir Putin and said Israel was turning into a semi-democratic Hungary and a theocratic Iran.
The protesters told CNN they were motivated by fear for Israel's future and sent a message to Netanyahu that the public would not support what they believed was a crumbling Israeli democracy.
Esther Hayut, president of Israel's Supreme Court, slammed the proposed reforms on Thursday as "a brazen attack on the legal system" and said they were "designed to deal a fatal blow to the independence of the judiciary".
The proposed reforms, announced last week by Israel's Justice Minister Yariv Levin, would seek to reform Supreme Court nominations through a review committee and enable parliament to overturn Supreme Court rulings.