Jeremy Renner was "completely crushed" by a snowplow in an accident outside his Nevada ranch on New Year's Day, according to a 911 call transcript.
Logs obtained by TMZ show that Rainer could be heard moaning in the background of the call and that he was bleeding profusely from his head, among other unspecified injuries.
The Marvel actor tried to use the 6,500kg 'PistenBully' plow to haul another car out of the snow when Accident happened.
The log also detailed the accident itself, saying that Rainer was "completely crushed" by the snowplow and had "extreme difficulty" breathing.
Records show Renner's right side of the chest collapsed and his upper body was crushed.
Rainer was airlifted to hospital and was taken to intensive care in a critical condition.
On Thursday, Reiner shared a video of his sister gently massaging his head on Twitter, writing: "A 'not great' ICU day turned into an overwhelming one with my sister and mom. Amazing spa day. Thank you so much."
In the video, he is seen lying in bed wearing an oxygen mask as his siblings rub his head with a shampoo shower cap.
"It's definitely the first shower in a week," he said. "So serious."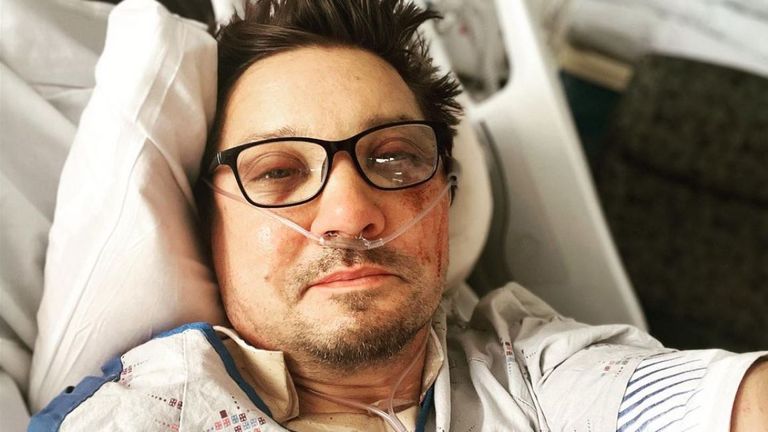 on instagram, racer Shared a photo from his hospital bed on Tuesday and wrote: "Thank you for all the kind words. I'm too messed up to type right now. But my love to all of you."
Officials stressed they did not believe the 51-year-old was physically injured and that it was a "tragic accident".
Sheriff Darin Baram previously said that after the vehicle was successfully towed, Rainer got out of the snow plow to talk to the family.
"That's when it started rolling. To stop it, he tried to get back in the driver's seat … and he was run over by PistenBully."