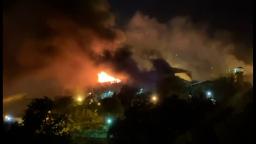 CNN
—

Multiple videos on social media showed a plume of smoke billowing near the Evan prison in northern Tehran on Saturday night.
According to Iranian state media IRNA, an Iranian security official said that "thugs" set fire to the prison's clothing warehouse, causing the prison to catch fire. The Evan prison in Tehran is a notoriously brutal facility where the regime holds dissidents.
"The situation is now fully under control, the prison is peaceful and firefighters are putting out the fire," the security official told I​​​NA.
The militant group 1500tasvir reported that in videos posted on social media, gunfire could be heard and Iranian special forces were seen heading to the area where the prison is believed to be located.
Iranian officials said the "thugs" had been separated from other prisoners and other detainees had returned to their cells, according to IRNA.
CNN was unable to independently verify the situation.
Amnesty International Secretary-General Agnes Callamard Reply on Twitter The social media video reminded Iranian authorities of their "legal obligation" to "respect and protect" the lives of prisoners following the fire.
Callamard noted that prisons are "notorious" and retweeted a post from journalist Jason Rezaian, whose "544 Days" podcast talks about his time in prison.
"Evan is no ordinary prison. Many of Iran's best and brightest have been imprisoned there for long periods of time, and brave men and women have been denied their basic right to speak the truth to power," Rezaian wrote. "The regime should be held accountable for what is happening to its insiders right now."
Meanwhile, cities across Iran remain mired in nationwide protest movements led by girls and women after a young woman died in police custody.
In September, 22-year-old Mahsa Amini died after being detained by the country's ethics police for allegedly wearing a headscarf incorrectly. Iranian authorities have since brutally cracked down on demonstrators who have united around a range of grievances against the country's authoritarian regime.
Witnesses previously said Iranian security forces beat, shot and detained students at Tehran's Sharif University. Nearly two dozen children were killed in protests last month, according to a report by Amnesty International.
In the last 10 days of September alone, at least 23 children – some as young as 11 – were killed by security forces, the report said.
Earlier this week, an Iranian official also admitted that students who participated in street protests were detained and sent to mental hospitals.