A woman who lived in the house where four University of Idaho students were murdered said she saw a masked man in black walking towards her, according to an investigator.
The unidentified roommate said she was woken by crying, opened the second-floor door around 4 a.m., and was "stunned" when the man walked past her to the back door, court documents show.
After seeing the man, she locked herself in her room.
The roommate, who was not injured in the attack, described the man as 5-foot-10 or taller, "not very muscular, but well-built, with bushy eyebrows."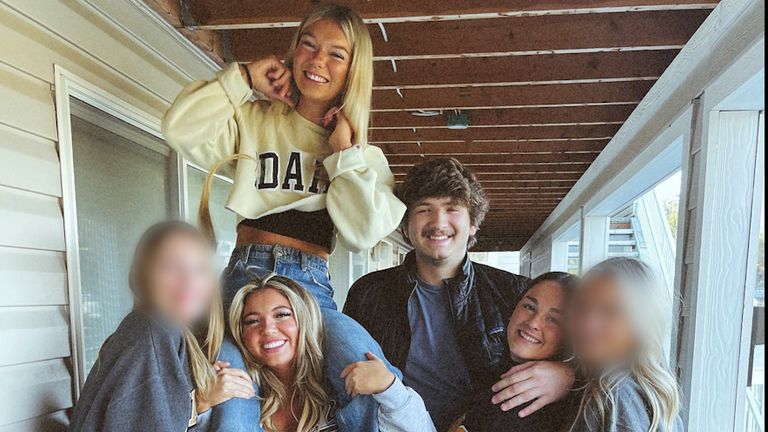 After being woken up, she said she heard one of her roommates say something like, "There's someone here."
She said she later heard a male voice say something along the lines of "it's okay, I'll help you".
Court documents also reveal the DNA of Bryan Kohberger, who is accused of killing Kaylee Goncalves, Madison Mogen, Xana Kernodle and Ethan Chapin, was found on a scabbard button at the crime scene.
In affidavits, Police Officer Brett Payne said phone data showed Kohberger visited the area near the home where they lived about 12 times before the attack. He said the apparent visits all happened late at night or early in the morning.
The document also said video footage captured a white Elantra, similar to the car registered with Kohberger, passing the house three times on the night of the murder before the driver attempted to pull over.
About 15 minutes later, the car was seen leaving at "high speed".
Police stop Idaho suspect weeks before arrest

Suspect extradited from Pennsylvania to Idaho
Kohberger, a 28-year-old criminology student, Extradition from Pennsylvania He was arrested yesterday in Idaho. He is due to appear in court today.
He was charged with four counts of first-degree murder and felony burglary.
His Pennsylvania attorney said he was eager to be exonerated and described him as "an ordinary guy."