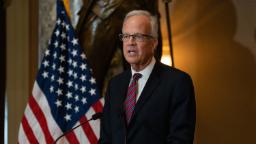 CNN
—

The FBI launched an investigation after cybercriminals targeted an accounting firm hired by the U.S. senator during his re-election campaign last year, according to a spokesman for the senator.
Kansas Republican Senator Jerry Moran's campaign sent two wire transfers last fall requesting fraudulent invoices totaling $690,000, according to a Federal Election Commission filing. Approximately US$168,000 has been recovered.
CNN has reached out to the FBI for comment.
"Cybercriminals targeted accounting firms employed by Moran For Kansas and funneled funds into fraudulent bank accounts," the spokesperson said in a statement.
The discrepancy was reported to law enforcement as soon as it "became aware," according to the statement.
A spokesman for Moran said the office is "currently pursuing all available avenues to recover this money and is conducting an investigation with the FBI," adding that the campaign "is working with the FEC on how to transparently report unauthorized Disbursements were negotiated."
The spokesman declined to provide further comment on the matter, citing an ongoing FBI investigation.