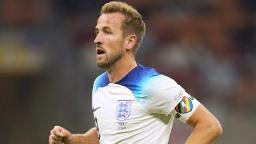 CNN
—

The captains of several European teams will not wear the "OneLove" armband at the World Cup in Qatar due to the risk of a yellow card.
The UK, Netherlands, Belgium, Denmark, Germany, Switzerland and Wales will join the 'OneLove' campaign to promote inclusion and fight discrimination.
But the countries' associations said in a statement on Monday that Qatar would not wear armbands — stripes of hearts in different colors representing all traditions, backgrounds, genders and sexual identities.
"FIFA has made it very clear that it will impose sporting sanctions if our captain wears the armband on the field of play," the joint statement read.
"As a national federation, we cannot put our players in a situation where they could face sporting sanctions including a yellow card, so we have asked captains not to attempt to wear armbands at FIFA World Cup matches."
"We are prepared to pay the fines normally applicable for equipment violations and are firmly committed to wearing armbands. However, we cannot put our players in a situation where they could be booked or even forced to leave the field of play," the statement added.
The decision not to display the armbands in Qatar came hours before England's opener against Iran, while Wales face the United States later on Monday and the Netherlands face Senegal.
The countries said they were "frustrated" by FIFA's "unprecedented" decision to sanction captains if they wear the captain's armband.
"We wrote to FIFA in September to let them know we wanted to actively support integration into football by wearing the One Love armband, but there was no response. Our players and coaches were disappointed – they are strong supporters of inclusion and Will show support in other ways," the statement continued.
In the run-up to the World Cup, Qatar – where homosexuality is illegal and punishable by up to three years in prison – has come under criticism for its stance on LGBTQ rights.
However, the country has repeatedly insisted that "all are welcome" at the games.
France have played all season but captain Hugo Lloris told reporters last week he would "respect" the local culture during the tournament.
Meanwhile, the Dutch FA said on Monday it was "deeply disappointed" that captain Virgil van Dijk would be booked for wearing the captain's armband on the pitch.