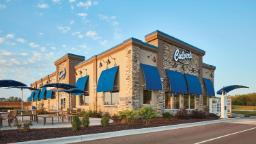 New York
CNN
—

Frozen custard and burger chain Culver's is switching from Pepsi products to Coca-Cola — and Pepsi fans aren't happy.
"This is a work in progress and will take time as our nearly 900 restaurants in 26 states will be transitioning," the Wisconsin-based chain said in a statement. Pepper and its sweet and unsweetened teas will remain constant.
The chain is known for its ButterBurger, a "never freeze" beef burger on a toasted butter bun, as well as cheese curds and deluxe bacon (comes with two bacon, two burgers, two slices of cheese, tomato, lettuce) and red onions.
Pepsi, Mountain Dew, Sierra Mist and Tropicana beverages are giving way to Coca-Cola products.
Fans of the chain, especially in the Midwest, were outraged by the change, which is now reflected in a picture on its website and in hundreds of angry comments flooding Culver's Facebook page.
"I can't believe Culver's is switching from Pepsi to Coca-Cola," said one commenter. "It's always been my favorite place to eat. This totally ruined it for me."
"Switch to Coca-Cola?" said another. "hurry up!"
Others celebrate the change.
"Unpopular Midwestern Opinion: On the one hand, I'm glad Culver's is switching from Pepsi to Coca-Cola products," one user tweets.
Coca-Cola has about 40% of the U.S. retail market in the first nine months of 2022, followed by Pepsi at about 29%, according to Beverage Digest.