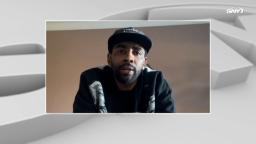 CNN
—

Brooklyn Nets star Kyrie Irving, who was suspended by his team for at least five games after he made a comment after sharing a link to an anti-Semitic film on social media, apologized again as he may return from suspension.
In an interview with SNY's Ian Begley on Saturday, Irving said he wanted to "focus on the harm I've done or the impact I've had in the Jewish community. Putting some sort of threat or supposed threat on the Jewish community," Irving told SNY.
"I just want to deeply apologize for all my actions since the post was first posted. I have had a lot of time to think. But my initial focus, if I could do it all over again, will be to heal and fix my relationship with my Jewish relatives, brothers The many intimacies of sisterhood."
The Nets suspended Irving earlier this month, saying at the time that "he is not appropriate to be associated with the Brooklyn Nets at this time." The 30-year-old has missed the team's last eight games.
The Nets said Irving's tweeting of a link to a documentary containing anti-Semitic messages — then initially refusing to issue an apology — led to his Nov. 3 suspension. Hours later, Irwin posted an apology on Instagram.
According to ESPN's Adrian Wojnarowski, citing sources, Irving could return as soon as Sunday, when Brooklyn hosts the Memphis Grizzlies. The Nets currently list Irving as a questionable player.
Owen reiterated that he was not "anti-Semitic" and apologized to the Jewish community.
"I don't hate Jews or anyone who calls themselves Jewish in my heart. I'm not anti-Semitic or anything," Owen told SNY. "It was difficult sitting at home with my family, who saw it all and asked questions. You know, the hardest part was explaining myself because I know who I am and I know what I stand for."
In recent weeks, NBA Commissioner Adam Silver, Nets owner Joe Tsai and Anti-Defamation League Jonathan Greenblatt have come forward to defend Irving after multiple conversations.
Tsai Ing-wen, who was quick to condemn Irving's actions at the start of the controversy, said he met with Irving and his family last week and did not believe he was anti-Semitic.
Tsai Ing-wen said on social media: "We have spent a lot of time getting to know each other, and it is very clear to me that Kyrie has no belief or hatred towards Jews or any group." "The Nets and Kyrie, as well as the NBA and NBPA, are constructively moving towards work through the process of forgiveness, healing and education."
After meeting with Irving last week, NBA Commissioner Adam Silver also said he believes Irving is not anti-Semitic.
Owen describes these conversations as "learning journeys."
"There's a lot of hurt that needs to be healed, there's a lot of conversation that needs to be had. And a lot of reflection. I've had the opportunity to do it with people from the Jewish community, people from the Black community, people from the White community," Owen said.
Asked why he hadn't initially apologized in previous press conferences, Irving responded by saying he had an emotional reaction to being called an "anti-Semite."
"I feel like I'm protecting my character and my reaction is purely defensive and just hurts what I might be labeled as, or I think I've been labeled anti-Semitic or anti-Semitic, I feel like That's just so disrespectful to ask me if I'm anti-Semitic," Irwin said.
"Now to the outside world, it might be seen as a simple 'yes' or 'no.' And rightfully so, it should be, 'No, I'm not anti-Semitic.' No, I'm not anti-Semitic. I'm someone who believes we should all have equal opportunity, that we should all shower each other with love, and that should be at the forefront," he continued.
Owen concluded: "I just care about people. When I hurt someone, I want to take responsibility and say 'I'll do better.'"